& MORE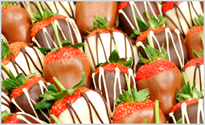 Chocolate covered long stem strawberries
Strawberries dipped in dark, milk and white Belgium chocolate
$2.75-$3.25 per strawberry
[price may vary due to season]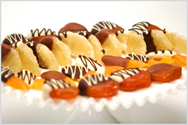 Chocolate dipped dried fruit
Apricot, pineapple and mango. Dipped in dark, milk and white Belgium chocolate.
$40/platter


Tarts
Shortbread filled with chocolate mousse, banana pudding,
or lemon custard. $1.25

Eclairs
Filled with vanilla cream custard, dipped in chocolate glaze.
mini: $1.50 | regular: $2.50
Cream Puffs
Filled with whipped cream, sprinkled with powdered sugar.
mini: $1.25 | regular: $2.00